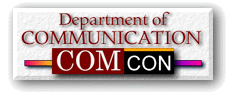 Michael S Sweeney, Ph.D.

Assistant Professor
Started teaching at USU the summer of 1996
Office: 801-797-3213
Home: 801-787-8696
Email: msweeney@wpo.hass.usu.edu or msweeney@cc.usu.edu

Education: Bachelor of arts, University of Nebraska-Lincoln, 1980
Master of journalism, University of North Texas, 1991
Ph.D. in communication, Ohio University, 1996

Background

Michael S. Sweeney, who prefers to be called "Mike," has a broad background in print journalism. He started as a sports information assistant at the University of Nebraska-Lincoln, a job in which his duties included interviewing football players after home games, and as a photographer for the Nebraska Press Association. After graduating from that Big Red University on the Plains, he worked for a year and a half as a reporter for the Springfield (Mo.) Daily News. He covered everything from police to education to his final beat, the 22 counties of southwest Missouri and northwest Arkansas. In the fall of 1981, he moved to the Fort Worth (Texas) Star-Telegram. In 12 years at the paper, one of the most influential and colorful papers in the Southwest, he served in many jobs, including copy editor, copy desk chief, media columnist, humor columnist, sports copy desk chief, entertainment editor, deputy features editor, features reporter and entertainment guide editor. His biggest thrill was being part of the newsroom staff that won the Meritorious Public Service Pulitzer in 1986 for a series of stories on allegations of design flaws in a Fort Worth-built helicopter. His second-biggest thrill was driving in suburban Fort Worth and hearing bits and pieces of his humor column read over the radio. (Sound bite: "Overheard at the new McDonalds that serves spaghetti and lasagna: 'Ronaldo will seat you now." And, 'Boss, the wine machine is clogged again.'")

Sweeney taught senior education classes in literature at Tarrant County Junior College in 1990-1993 and was an adjunct instructor of news writing at Texas Christian University in 1992. He taught news writing, editing, media history and electronic publishing as a graduate student at Ohio University in 1993-1996.

At Utah State, his specialties are teaching news writing, public affairs reporting and copy editing.

His research interest is mass media history. His dissertation is the first-ever history of the Press and Broadcasting Divisions of the Office of Censorship in World War II. He also has published a monograph in The Sound Historian (a peer-reviewed oral history journal based in Texas) on Ernie Pyle's most famous column, about the death of Capt. Henry T. Waskow in World War II. He has had two research papers on magazine advertisements accepted by the Association for Education in Journalism and Mass Communication. And in 1996 he won the Warren Price Award for the top student entry in the AEJMC History Division with a paper on Coxey's Army and the Argus-Eyed Demons of Hell. (FYI: the demons were reporters who accompanied Coxey's march in 1894.)

Sweeney has a wife, Carolyn, who refinishes furniture and is trained as a technical writer, and a son, David, who attends Mount Logan Middle School and plays the trombone.

If you are feeling down, or are in need of a good laugh, go and observe Michael and Ted Pease interact in the Communications Department office.



UP to the USU Department of Communication Home Page

For more information about the USU Department of Communication contact Ted Pease (tpease@wpo.hass.usu.edu). For more information about this Web Site contact Steve Anderson at Utah State University (sanderso@cc.usu.edu) or Jacob Anawalt (sls5b@cc.usu.edu).