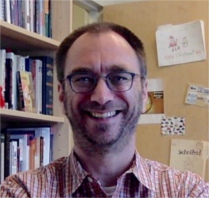 Andreas Broscheid
Assistant Director, Center for Faculty Innovation Professor of Political Science
James Madison University
Office: Rose Library 5115
Address:
Center for Faculty Innovation, JMU
Rose Library 5101, MSC 4603
Harrisonburg, VA, 22807
Phone: (540) 568 4846
broschax@jmu.edu
I am the assistant director for career planning programs at JMU's Center for Faculty Innovation. In that capacity, I coordinate the program for the one-day New Faculty Orientation in August, help create the year-long New Faculty Academy for first-year full-time faculty, support faculty applying for Virginia's Outstanding Faculty Awards, and work with three faculty associates to create additional programs that help faculty at JMU build careers that help them achieve their professional and life goals. I am also a professor of political science. I received my Ph.D. at Stony Brook University in 2000 with a thesis on the U.S. courts of appeals. Since 2006, I have been teaching courses on U.S. government, the U.S. courts, and political science research methods at JMU. More recently, my scholarship has focused on teaching in political science and on work in faculty development. My SSRN page is available here. My C.V. is here.