INTRODUCTION
"No national culture can be fully understood without such a phenomenon as the folk print" (Alla
Sytova, The Lubok, 5).
Copyright: Alexander Boguslawski 1999
The lubki [singular: lubok], simple printed pictures colored by hand and often called broadsides, popular prints, folk prints, folk etchings, or folk engravings, are a vivid and fascinating page in the history of Russian culture. Folk prints were known in many other countries (in the Far East as early as the eighth century and in Western Europe from the fifteenth); in Russia they appeared in the middle of the seventeenth century and survived until the beginning of the twentieth. The origins of their Russian name have not been yet clearly determined, but the word lubok may derive from lub, the thin layer of wood under the bark of a mature lime (linden) tree.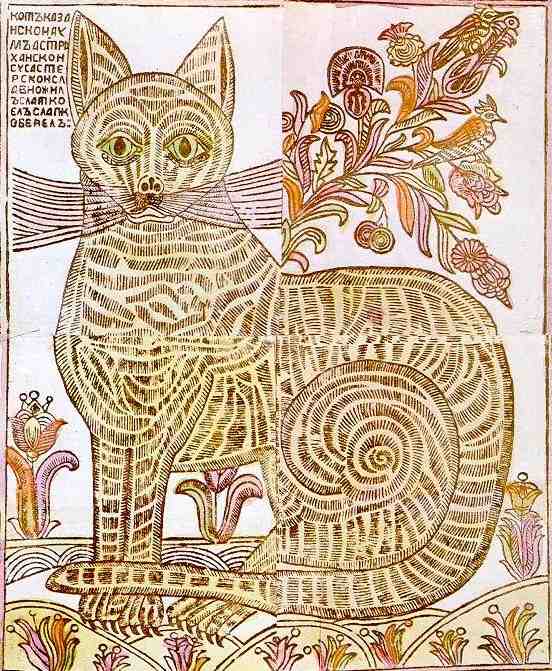 Since the lubok was primarily an urban phenomenon, at first the prints were snapshots and vignettes from the city's streets, homes, or taverns. Only in the middle of the ninetenth century, influenced by folk songs, did images of village life flood the lubok. Accompanied by rhymed and often ribald inscriptions, these lubki addressed all possible facets of social interaction. The Husband Weaves Bast Shoes With Skill, the Wife Spins Yarn With a Will shows a couple working by candlelight to get rich.
Examine the following lubki and texts and consider what these images can tell us about everyday life in Russia: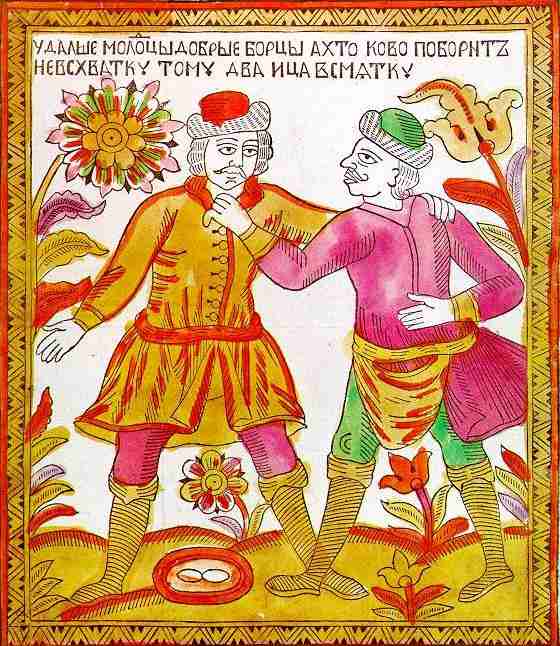 "The fellows derring-do and good fighters too. The one who knocks the other off his feet, Two soft-boiled eggs receives as a treat."
Translation Copyright: Alexander Boguslawski 1999. This print illustrates a popular "open" wrestling match in which the winner gets a prize: two soft-boiled eggs. Such matches often took place during spring celebrations.