Theme Five: Power and Its Discontents
September 27, 29; October 6
Note: Map quiz on the 27th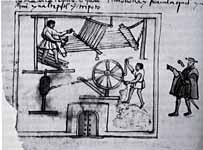 Textile obraje (factory) using Indian workers, Mexico.
Outline:
A. Power Grids: The Construction and Exercise of Colonial Authority
1. Intersecting Lines of Power Structures
2. The Strengths and Weaknesses of the System
B. Making Indians
1.
2.
3.
C. The Church's Contribution
1.
2.
Key Terms:
Encomienda/ Encomendero/a Hacienda/ Hacendado /a Repartimiento
Repartimiento de Mercancias Alhóndiga
Royal Fifth
Alcabala
The New Laws
Reading Assignments:
Catalina de Erauso Lieutenant Nun: Memoir of a Basque Transvestite in the New World (Finish reading)
Stern, Peru's Indian Peoples, pp. 27-50; 51-89
Optional Additional Readings:

Seed?



Return to Syllabus Homepage